Name:Shinji Ikari
Nickname:Masa
Age:19
Gender:male
Apperance:
Division: 10
Rank:seated officer
Personality: Sometimes quiet, but most the time a cheerful young man. He likes to spend some of his spare time at a lake. He tends to make bets with other people just to let time fly by.
Zanpakuto
Name: Aisu Kurisutaru
Appearance: its on the pic
Zanpakuto Realm: Kurisutaru's realm is a frozen barren land. Its quiet, and peaceful. Large glaciers form a large building that resembles a castle. The land is covered by a cloud of mist most the time during the day.
Zanpakuto Basic Appearance:
Shikai:
In it's Shikai form, Kurisutaru emits mist off the blade. With every slash, the mist grows larger, thus covering a portion of an area. Whatever Kurisutaru touches anything except the user, it will leave tiny shards of ice. If it comes in contact with any flesh, the shards will melt, creating a stinging sensation.
Shikai-Command: "Arise from the mist..... Aisu Kurisutaru!"
Bankai: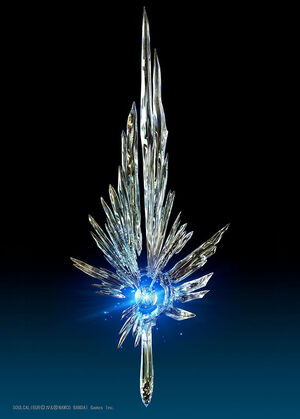 Gigai
Name: Shinji Ikari
Age:19
Likes: Smoothies
Dislikes: being bored
History: Shinji was a shy quiet, but a few friends he made helped him be more social. Hes still quiet, but not as much anymore, and started gambling with other soul reapers in the land of the living.. He most the time wins, but lost a few times. He stopped being alone, and started hanging out with his friends at the soul society. During a battle, Shinji lost his best friend, and before he died, he gave Shinji a pocket watch. Now he keeps the watch with him, no matter where he went. Now, he hangs out with his friends in the land of the living, gambling, drinking smoothies, and killing
hollows.
Role-Play Sample: "Okay, heres the thing. If he falls for it, i get 5 bucks, okay?" Okay. Shinji held a fishing rod with a slipper tied to the end. Where is my slipper? Shinji, and one of his friends snickered as a women finds the slipper. "Phase 2 of the plan". Shinji reeled in the slipper while watching the women struggle to get it. He reeled the slipper close to a door thats a little opened with a bucket of icy cold water over it.Now i got you. The women pushed open the door, and the bucket full of water fell on her head. She sees Shinji, and his friend laughing their heads off.Very mature. Are you soul reapers, or kids? What? Soul reapers needs some fun every once in a while. "Yeah, and buddy, wheres my 5 bucks?" Shinji's friend gave him a 5 dollar bill, and forgot that the women was there. Now whos idea was this? Because whoever idea is it, will be on night duty, and if i catch you sleeping on night duty. Both Shinji and his friend said, "He did it!"